LOVE
LIVES
HERE
What if everyone actually knew their neighbors? Not just as those people who play loud music, wait until the last minute to mow their lawn, or shovel their drive. We believe creating a safer community and a better place to live starts with knowing your neighbors and volunteering in your community.
Tiffin is the fastest growing community in the state, and with all the growth it's hard to keep up. So we want to love on our community by creating fun events for everyone to connect and contribute to the place we call home. That's our mission, to love on our community. If you're interested in being a part, starting a community event, or have questions, you can sign up below or send us a message.
One of the best ways to build a better community is to get to know those who live around you. So we host various events and charity work around the community to make a difference and connect with your neighbors. In the past that has included paying off the school district's lunch debt, community egg hunts, and finding volunteers for other community events. In the future, we are planning block parties for all the residents around certain parks in Tiffin, and more.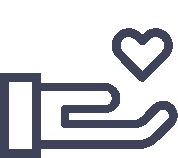 We believe making a safe and welcoming community starts by investing in it. All of the donations given to the "Love Lives Here" fund will go to serve our community through charity and events that create a better place to live.